The K-19 Sharky is a new fundamental delta-wing paper "jet" design.

It's fairly hard to make because of the accuracy required in placing the folds, but can be done successfully on some if not most attempts.

The plans here are calibrated for 8.5" x 11" photocopier-weight paper. I hope to give specifics soon for A4 and maybe other sizes, and check into how much difference the paper thickness makes in the optimal geometric specifications.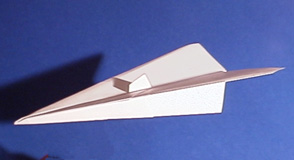 Key Features
The fuselage is held together at the top (and all around as well) just by folding. No tape needed.
Excellent weight distribution toward the nose.
Optional dorsal fin makes a "Fin Sharky".
Flight characteristics
Flys straight and fast, glides well, resists excessive stalling.
Inherent nosedive usually requires bending the trailing wing edges up a little for good performance.